If you're a do-it-yourself kind of person and enjoy working on your car, you know the importance of having the right tools for the job. And when it comes to lifting your car, there's no better tool than a floor jack. Floor jacks come in all shapes and sizes, but if you're looking for the ultimate floor jack, look no further. We have the ultimate floor jack just for you.
How does a floor jack work?
A floor jack is a manually-operated hydraulic lift made to lift vehicles partially off the ground. Using a floor jack allows you to repair and maintain your car. They are generally low-profile and can roll under vehicles or be used in your shop at home.
Floor jacks sit on wheels so they can be moved around easily. To use a floor jack, roll until the saddle (the circular rubber pad on the floor jack) is positioned underneath the lift point. Then, you can pump the jack handle up and down to raise the jack until the saddle contacts the vehicle.
Using a Floor Jack Safely
Safety is of the utmost importance when using a jack. Because these small, convenient devices lift incredibly heavy vehicles, they can become highly dangerous if misused. Even the smallest of cars can cause significant damage to the car or you if they fall unexpectedly. With that said, here are some tips for using a floor jack safely.
Only use a jack on a solid, level surface. A garage makes an excellent place for using a floor jack.
If you will be working underneath the car, use a jack stand to help support the vehicle and protect against jack failures.
Make sure to only use a floor jack on your vehicle's designated lift points to avoid damage.
Be mindful of your surroundings. Ensure there are never children or pets around the vehicle while it is lifted.
How to Choose the Right Floor Jack
Not all jacks are created equally. There are several different factors you should consider when deciding which jack to purchase.
Make sure to choose the right weight capacity for your vehicle. Before purchasing a jack, find your vehicle's gross weight, front weight, and rear weight on the sticker inside your door. This information is also in your vehicle's owner manual.
Ensure you get a floor jack with more weight lifting capacity than you actually need to help prevent accidents. However, don't go overboard, or you will end up with a jack that is much heavier than necessary.
You should also consider what material the jack is made out of. A steel jack will be very durable and more affordable but will also be heavier to move around. On the other hand, an aluminum jack will be lighter weight but may have a higher price tag. A hybrid jack combines both metals to give you the happy medium of both options.
Choosing The Ultimate Floor Jack: Our Top Picks
Because safety is so important when using a jack, it makes sense to invest in one that is high-quality. Here are our recommendations for choosing the ultimate floor jack for working on your car.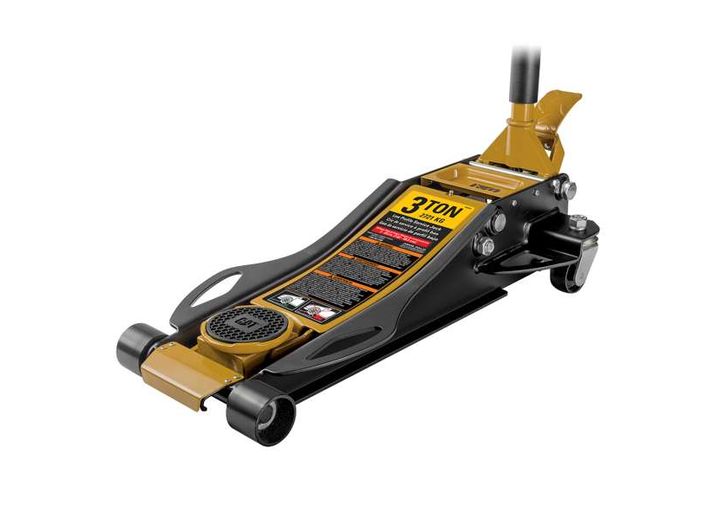 The CAT 3-Ton Low-Profile Service Jack
The CAT 3-Ton Low-Profile Service Jack is a versatile and heavy-duty floor jack. It has a weight capacity of up to three tons and has a lift range from 3 inches to 19.5 inches. It has a low-profile design that makes it excellent for lifting cars that are lower to the ground.
With a dual piston quick lift pump, the lift arm can reach its maximum height in only seven pumps of the handle, making it a great jack for busy shop environments. However, you can also use its built-in foot pump to raise the saddle in smaller increments for better precision on the lift points.
This steel floor jack is designed with a wide wheelbase and heavy-duty steel framing to withstand heavy loads with ease. Because it is made of steel, it is highly durable and will last a long time in your shop.
The CAT low-profile service jack also includes features like a small parts tray to keep track of lug nuts and a handle pad to protect vehicle paint from accidental dings. These features make this low-profile service jack the ultimate floor jack for most garage shops.
The CAT 3-Ton Big Wheel Off-Road Hybrid Jack
The CAT 3-Ton Big Wheel Off-Road Hybrid Jack is excellent for repairing vehicles on different terrain. This jack has a lightweight body design and large wheels that make it easy to maneuver on any surface. In addition, the bottom of the jack features a skid plate to keep the jack stable and level on the most challenging surfaces, such as sand or gravel.
The body of this hybrid jack is made of both steel and aluminum. This means you will have a jack that is durable while still being lightweight enough to move around, which is essential for a jack that is excellent off-road.
The CAT off-road hybrid jack has a lift range of 6 to 21.5 inches and comes with an adapter that can extend the lift range to 29.25 inches. It has a weight capacity of three tons. The extensive lift range and weight capacity make this the ultimate floor jack for anyone who owns a larger truck or SUV vehicle or tends to travel across challenging terrain.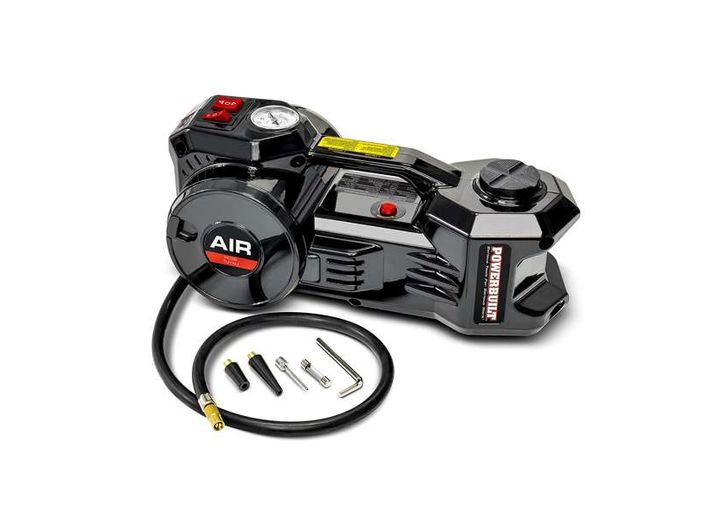 The PowerBuilt 1-Ton 12V Electric Floor Jack with Built-In Tire Inflator
Finally, our last recommendation for the ultimate floor jack is the BowerBuilt 1-Ton 12V Electric Floor Jack with Built-In Tire Inflator. This electric car jack is designed to make roadside emergencies like flat tires a breeze.
Simply position the jack under your vehicle's lift point, plug the floor jack into your car's 12V outlet, and press the button. The jack will lift your vehicle up to 14 inches high, allowing you to change a tire wherever you are. The built-in 115 PSI tire inflator can help air up your spare tire to get you back on the road quickly.
The PowerBuilt electric floor jack is designed to be compact and easy to store in your vehicle. Although it may not be your first choice for a busy shop, it is the ultimate floor jack for on-the-go travel and solving roadside emergencies in no time.
Experience Outdoor Living!
At Omni Outdoor Living, we make it our mission to help customers get the most out of their outdoor experiences. We offer quality outdoor products focused on outdoor recreation, DIY projects, entertaining friends and family, or just relaxing outside!